I know. You're wondering about TWBM. You're thinking TWBM? WTH?
And since I'm stuck at home, for the THIRD snow day in as many weeks, I figured I should share some deliciousness.
The World's Best Muffin
I know, that's a pretty bold claim. (haha, written in bold print.) But it's true. These muffins are fabulous, and if you like pecan pie, you will love these! Even if you don't like pecan pie, you might still love these. And, like all my recipes, so simple to make! Only 5 ingredients :)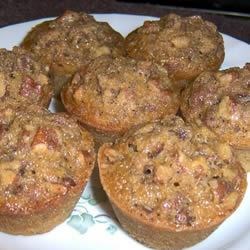 You'll need:
1/2 cup flour
1 cup brown sugar
1 cup pecans, chopped
2 large eggs
1/2 cup butter, melted
Mix the flour, sugar and pecans in a large bowl.
In another bowl, beat the eggs until foamy.
Stir the butter and eggs together, then add to the dry mix. Stir til combined.
Spray the paper liners in a muffin pan with non-stick spray, and fill 2/3 full with batter.
Bake at 350 degrees for 22 minutes.
Remove from pans immediately and cool on wire racks.
*These are best when they're warm. I'd recommend heating briefly in the microwave before you eat.
So so so good!