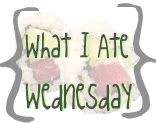 Woo hoo!
I've joined up on one What I Ate Wednesday
link up in the past
, and found out that taking a picture of all your meals is actually hard work! But I made up my mind that I was going to do it, so here it is!
What I ate Wednesday is hosted by
Peas & Crayons
and today is her birthday, so you definitely need to go check it out!
(In the interest of full disclosure, my What I Ate Wednesday actually took place yesterday, on Tuesday.)
For breakfast, I had the
amazing overnight oats that I cannot get enough of
.
I'm not joking. I've eaten about 3 pounds of oats in the last month or so.
Oh yeah! I started adding chia seeds to my oats. Chia seeds have been all over the internet for forever, and are supposed to be really good for you, so I started adding them. My oats still taste the same and now they're even better for me. Bonus!
(side note: have you ever had Larabars?? If you haven't, you need to! They're basically just dates and nuts processed together into a bar, so they're 100% healthy, and surprisingly 100% delicious!)
Lunch was leftovers from that
delicious, calorie exlosion lunch
I told you about over the weekend. Remember, leftovers are not meant to be pretty, photogenic food. They are meant to fill in when you're feeling lazy and/or have a baby that decided she's anti-sleep.
(Insert some un-photographed snacks here. My camera cannot keep up with my snacking.)
Dinner was going to be pizza tonight.....but I decided I needed some veggies in my life, so I got out my trusty crock pot and made beef stew. Ours is very simple. Sirloin, peas, carrots, green beans, corn, potatoes and beans.
And here's one snack that hopped in front of the camera. Cute clementines!
Did you eat anything delicious today?