I think it's safe to say that anytime I join in on the What I Ate Wednesday posts, that you're never actually going to see what I ate
on Wednesday
...because it just hasn't happened yet.
These particular eats are from yesterday, and are perfect examples of road trip food at it's finest. In case you aren't aware, road trip food = fast food. When we vacation, we take the time for delicious sit down meals, but on the last day of our road trip, we tried to maximize our time for fun by keeping meals quick.
And of course, if you'd like to join in on the What I Ate Wednesday posts, just go visit
Jennifer @ Peas&Crayons
, cause I know she'd love to have you!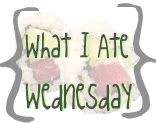 Basic breakfast in the hotel before getting our day started:
An apple and a larabar
(side note: Have you had a larabar? OMG, they are amazing!)
An early lunch at the zoo:
Greasy pizza. Cheesy deliciousness.
And yes, I'm one of those people that eat my pizza with a fork.
A mid afternoon later lunch:
Chick-fil-a chicken nuggets.
We're going to be getting one where I live in a few months!
Quick stop for dinner on the way home:
Worst salad ever, courtesy of Subway.
I usually get a flatbread sandwich, but they were all out of flatbread :(
I just hate lunchmeat on a sandwich...this girl wants REAL meat.
Various snacks while in the car:
Banana. Shared a few teensy bites with Isabelle!
Another larabar...I just can't resist!
If you haven't tried them, do! 100% all natural, simple deliciousness.
I'd like to think I usually eat a little healthier than this - or at least a little more well balanced - but road trips just aren't the time for balance, ya know.
What's your favorite fast food?
I love Panera, but I know that's not
exactly
fast food. Oooh! Chipotle! Good stuff :)