Are you ready for this link up extravaganza?? As you know, I usually link up to the fabulous
Jennifer @ Peas and Crayons
for What I Ate Wednesday, and today is no different.
But I'm also linking up to
The Pleated Poppy
for What I Wore, and
This Kind of Love
for What I'm Loving!
So let's get started!
What I Wore:
I'm really excited to show off this outfit! As a stay at home mom, I rarely have any reason to change out of my usual uniform of jeans and a tee. I mean, at least I don't stay in my PJs all day, right?
But last Thursday, Kaylee's school had their annual Open House, and as secretary of PTO, I felt like I should probably make myself a little more presentable.
Jeans and belt: Decree, from JC Penney; Oxford shirt: Ralph Lauren, from Ralph Lauren; awesome bracelet: a Kaylee original.
What I'm loving:
I'm loving half priced Easter candy! I got some Dove Chocolate Truffle eggs and they are delicious!
Unfortunately, I REALLY wanted some M&M specktacular eggs, but everywhere is sold out :(
I'm loving switching to my Escada limited edition summer scents. In the winter, I love Burberry Brit, but it's too heavy for summer. It's really not summery here yet, but a girl can dream. I love all the Escada summer perfumes! Stop by your nearby fragrance counter and try them!
I'm loving my newest kitchen appliance! I'll have to devote a whole post to that baby :)
And of course, what I've been eating!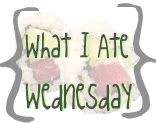 Thanks to a free coupon, I was recently given the opportunity to try
Van's waffles
. I'm not normally a big waffle fan, but I had heard lots of good things about Van's.
The directions say you can heat them via the toaster, microwave or oven. I heated mine in the toaster oven, and 8 minutes later had some delicious waffles.
There are several more varieties I hope to try soon, like the Maple Waffles, the Multigrain Waffles, and the Vanilla Waffle Sticks. They also make French Toast sticks which sound great too.
Share the positivity!! What are you loving today??
Psst! Come enter
my giveaway!