Welcome to this week's edition of What I Ate Wednesday! Go link up at www.peasandcrayons.com :)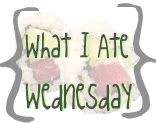 Usually it's all about me, but this week I decided to switch things up and do a WIAW Kaylee edition. For the most part, we always eat the same dinner (this mama isn't a short order cook!), but on the weekends, we all do our own thing for lunch time. And breakfast is always unpredictable!
Kaylee always wakes up earlier than I'd like to, and she's knows that's her time to get to sit and watch a movie. During the week, she's at school til 4:15, then we have homework and dinner and bath, and she usually doesn't get any TV time in the evenings. Breakfast is usually kind of snacky.
ridiculously expensive
all natural, fruit only healthy fruit leather.
This is a typical lunch for Kaylee. Lately she chooses to have sandwiches a lot, but sometimes she'll ask for mac&cheese or ravolis.
Like I said, I only make one dinner a night. So yes, my hubby and I aren't eating anything exotic or exciting, but that's ok with me. On days when I don't mind the "eat another bite" routine, Kaylee will have whatever vegetable we're having, but oftentimes I'll just peel her a carrot and save us all the trouble.
Dillons had drumsticks on sale AND I had a coupon, so I got these as a special treat for Kaylee.
What's your kid's favorite food?
I just asked Kaylee what her favorite food is, and she said spaghetti and popcorn.