Y'all are so sweet! My husband and I both read through all the comments you left, and we really appreciated all your happy anniversary wishes. We did have a very happy and low key anniversary :)
And like I do most Wednesdays, I am linking up with
Peas & Crayons
for What I Ate Wednesday.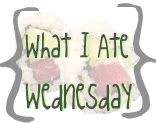 If you've never linked up before, I suggest you join in.
Today I'm going to bend the rules and include an extra lunch in lieu of breakfast. Yes, I eat breakfast, but it's kind of boring to me. I'm much more into the other meals of the day.
Here's two lunches I've eaten this week:
I LOVE using leftover chili on top of salads, with lots of cheddar cheese. It reminds me of an "indian taco" like we have at fairs and festivals here. Also, I think avocado on sandwiches is delicious!
Mid-day I had an odd craving for peas. Yes, I know that's weird.
This is what we had for our anniversary dinner. We contemplated going out for dinner, but decided we'd be just as happy staying home with our kiddos.
And in celebration of one year of marriage...
The top tier spent a year wrapped up all cozy-like in our freezer. My husband was really unsure about eating year old cake (not to mention he doesn't really like cake much to begin with) but we gave it a try. After I unwrapped it from the 10 layers of saran wrap and 3 layers of foil (yes, maybe I like to overdo things!) it really did taste totally fresh. Not at all old or dried out or freezer burned or anything. And the spice cake was more delicious than I remembered!
Did you keep your top tier for your anniversary?? How was it?
Also, what's your favorite meal of the day? Breakfast, lunch or dinner?