Happy Hump Day!
I can honestly say I've never said Happy Hump Day in real life. It's just not an expression I use. Do you?
Anyway, I'm linking up with one of my favorite bloggers,
Peas & Crayons
, to share with you some of my recent meals. If you've never checked out her blog, you should. Read mine first, leave me a comment, and then you can go visit her. hehe!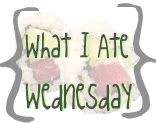 I'm going to do things a little differently and instead of sharing a day's worth of meals, I'm going to share a little recipe with you....cause after all, I ate it. Therefore, it can be a What I Ate Wednesday post, right?!
And honestly, to call this a recipe is
reeeeeeeeally
stretching it. It's totally not worthy of being called a recipe. But just go along with it, mmkay?
I'll call it
Cheating Chicken Parmesan.
Here's the scene:
It was a random weeknight, 6:00 in the evening, and
this momma
someone had forgotten to get anything out for dinner. Uh oh! We were thisclose to ordering pizza, and then my hubby actually thought of this idea himself.
I'd like to interject here, that while he was the one who thought of it, I was the one who executed it. I was the one who slaved over the stove
all day
for about 5 minutes. Haha!
Thanks to Applegate Farms, I was able to use wholesome, all breast meat, all natural, hormone and antibiotic free frozen chicken patties. These chicken patties were a lifesaver in getting dinner on the table quickly!
I realize a lot of you are probably thinking that frozen chicken patties do not a healthy meal make, but seriously, if you're going to use frozen chicken,
Applegate Farms
is probably the healthiest choice out there. The meat is flavorful and juicy and the breading is light and slightly crispy. The nutritionals are great too: 180 calories and 12 grams of protein per patty.
Anyway, I put the four chicken patties into a baking dish, and covered them with some marinara sauce, like so:
(excuse the fact that this picture is taken while inside my oven.
I forgot to snap a pic before I put them in.)
After "cooking" for about 13 minutes, I removed the dish and covered the chicken patties with some fresh mozzarella and parmesan cheese, and baked and broiled for another 6 or so minutes.
this looks like homemade, yes?
And here's my plated cheating chicken parmesan.
Go figure that out of all 20+ plates I have in my house,
I plated and photographed the ONLY broken one.
Don't worry, if you ever come for dinner, I won't serve you food on broken dishes!
(and yes, I'm still 5 years old, and don't like any of my food to touch. Shush!!)
Next time dinner sneaks up on you, and you don't have anything out to prepare, remember my cheating chicken parm. Your family will thank you for it! And then you can come thank me =)
And yes, the frozen chicken patties were delicious, and everyone in my family enjoyed them. I'd highly recommend these to you!
And just in case my one little meal doesn't qualify me for WIAW,
and since I know you're SO interested,
here's a few more meals:
So there ya have it!
Now you share...
what's your favorite quick fix meal??