It's 12:35am as I'm writing this, and I'm sitting on the couch blogging, while semi keeping my husband company. I would have loved to have been in bed a good two hours ago.
Apparently the wood in our front door frame starting splitting a little bit, and over time, got worse and worse, until within the last week or so, the door wouldn't latch correctly when you closed it.
So for the last 8 hours, my hubby has been working hard, taking off all the trim pieces around the door, undoing all the screws and hinges, taking out the old door, removing old wood and sanding the opening and cutting out parts of it to make it a little bigger and fitting and re-fitting and re-re-fitting in the new door and frame. It's been loud and messy and tedious and a lot of work. And it's not like my husband can just stop and finish it tomorrow. Having a front door is kind of a necessity, ya know. Unless you're ok with essentially a big wide open hole in the front of your house. Your call.
Obviously, I'm no help for any of this project, so I figure the least I can do is stay up with him while he works. Cause I know if it was the other way around and I was busting my ass doing something while my husband leisurely slept, I'd probably be harboring a bit of resentment.
(not that me sitting here blogging is any more useful to him, but it's the thought that counts, right?)
Anyway, in light of the time consuming and costly home repairs that are going on, I thought I'd share some reasons why being an adult sucks.
--You don't get rewarded with balloons or lollipops from the bank, and no stickers for you after you've been to the doctor.
--Your magazines (whether it be Real Simple, Self, Glamour, Time, or People) don't come with Hidden Pictures like Highlights magazine does.
--You don't get to sit and leisurely ride in the hopping cart while someone else buys all the food and personal care items you need.
--Accepting that sometimes, in fact, you are not smarter than a fifth grader.
--Not getting cheaper admission to movie theaters or theme parks.
--Realizing that when you don't turn off the lights, or close the door behind you, that's your hard earned money that's paying the higher electric bill.
--You have no more teeth to lose, and no tooth fairy to leave you money under your pillow.
--Your birthday isn't very exciting anymore, at least not the way it was when you were a kid.
--At McDonalds, your meal doesn't come in a cute little house shaped container, but in an ugly, grease-stained paper bag.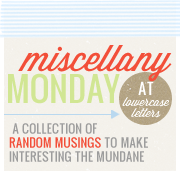 What do you think is the worst part about being an adult?
Be sure to check in later today, or first thing tomorrow morning for a fun giveaway. Here's your clue!