Let's link up to Jennifer at
Peas and Crayons
for some What I Ate Wednesday deliciousness.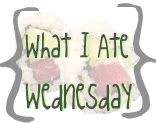 It's been awhile since I did a day's worth of eats, so I thought I'd take it back to the basics.
Baked sweet potato with lots of butter, cinnamon and brown sugar. Always delicious!
I'll be honest...this isn't a very typical picture of my eats...cause my days are usually full of carbs and cheese, and somehow there isn't any of that. Clearly, something was wrong.
Now let's connect to
The Pleated Poppy
for some What I Wore fashion.
And can I just say that I'm LOVING being involved in this link up?
I really was that stereotypical stay at home mom that threw on some sweats and a tee every day because I had no reason for anything nicer.
I still don't have a reason....besides enjoying that I look nice. It's pretty fabulous!
And apologies for the terrible pics. I have been taking them with the timer, and then I crop my picture so much that what's left ends up blurry.
And here's the same outfit with a cute little jacket.
And let's focus on the positive with some What I'm Loving at
This kind of love
.
I'm loving...
sweet little notes from my husband.
I'm loving...
strawberry season! Yum yum!
I'm loving...
cute little lemurs.
I'm loving...
Prefense Hand Sanitizer.
See...I'm a bit of a germ-aphobe. Germs gross me out.
But so does alcohol based sanitizer. Full of chemicals, and a nasty smell, I sometimes have a hard time figuring out what's worse....the germs or the alcohol sanitizer.
Luckily, we have a new option.
Prefense
!
Prefense
is a sanitizing product that provides protection from germs without the drawbacks of traditional hand sanitizers.
It has no alcohol, which means no yucky alcohol smell and no dried out skin. Instead, the silica based gel has a slight fresh smell and leaves your skin feeling fairly smooth.
One application works for 24 hours, or through ten hand washings. Gotta love a long-lasting product!
Prefense
is a much better alternative to any other hand sanitizer I've tried.
And one lucky reader of loving the little things is going to win their own full sized bottle! The full sized bottle contains 640 applications! And with one spray lasting all day, that one bottle of Prefense could potentially last almost 2 years!
All you have to do is leave a comment on this post - any comment! - and you're entered to win! Just make sure I have a way to contact you via email.
And, as always, I encourage you to be a follower of loving the little things!
Giveaway closes Friday, May 20 at 9:00 am CST.
A winner will be chosen via random.org and announced on the blog and notified by email on Friday, May 20. Good luck!
I received one or more of the products mentioned above for free using Tomoson.com created by WebBizIdeas.com. Regardless, I only recommend products or services I use personally and believe will be good for my readers. I am disclosing this in accordance with the Federal Trade Commissions 16 CFR, Part 255 Guides Concerning the Use of Endorsements and Testimonials in Advertising. Tomoson Product reviewgiveaway Disclosure.
Sponsored by Tomoson.com