Thank you, everyone, for all the
well wishes
. I'd say Kaylee is feeling much better, but I'm still a little iffy. Thank goodness for already written posts, right?!
It's that magical day of the week when I post my link-up extravaganza :) This is such a fun post for me to do each week, and I hope you enjoy it too!
I'm linking up at
The Pleated Poppy
for this week's edition of What I Wore Wednesday. You can do it too :)
Since I enjoyed
getting dressed up
last week, I figured I should do one up myself and do it twice this week. Nothing fancy, just a little step up from jeans and a tee.
our roof was getting fixed
, Isabelle and I picked up lunch from one of our favorite upscale cafes and went to eat lunch with the hubby at work. Isabelle was excited to get to wear a dress...that only happens on days when it's nice outside.
And over the weekend, we all went out to dinner as a family at
Bonefish Grill
. It's definitely one of our favorite restaurants, and a good excuse to get dressed up.
I'm linking up with Jenn at
Peas and Crayons
for this week's edition of What I Ate Wednedsay.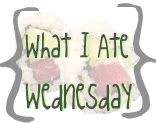 This week I wanted to mix things up by showing you my family's weekend lunch.
For us, dinnertime is always a family event. That's the way I was raised, and that's the way I want to do it with my family. And this mama cooks ONE dinner, and that's what we're having.
Lunches, though, are a mix of fend for yourself, use up the leftovers, or throw together something easy.
Here's what Kaylee had:
Here's what the hubby had:
And here's what I had:
I really like this approach to lunchtime, because then there's no stress associated with cooking, not much prep time involved, and everyone is able to have what they want. It's a win-win for everyone!
And lastly, I'm liking up with
This kind of love
for What I'm Loving Wednesday.
I'm loving...
Ben&Jerry's Dublin Mudslide. SO delicious. I may or may not have eaten an entire pint in one sitting, which may or may not be a full 1000 calories.
I'm loving...
this this week is Kaylee's last soccer game for this season. Call me a terrible parent, but I just do not enjoy watching sports, even if it's my own kiddo playing. And I'm glad it'll free up our weekends too!
I'm loving...
that Isabelle will be starting her swim lessons this week. The term "swim lessons" is used very loosely, because at 8 months, it's really just 45 minutes of splashing :)
I'm loving...
my new bracelet from
ek Designs
. I love glancing down and seeing my sweet girls' names!
I'm loving...
that I have a $25 amazon gift code burning a hole
in my pocket
in my amazon account. I need new books to read...PLEASE LEAVE SUGGESTIONS!
I'm loving...
that there's a new Sweet Valley book out. I know it's been out for a few weeks, but I can't bring myself to pay the $10 for it. But I definitely want to read it!
What are you loving today??