Wednesday has quickly become my most favorite day of the week to post. Which is awesome, cause it's a fun highlight for my otherwise ordinary week
:)
Let's take a peek at what I've been wearing, shall we?
After
my great debate last week
, I did wear my usual two piece swim suit to swim lessons. And here's the suit that caused me so much unneeded stress.
Once in the pool, no one was aware of what anyone else was wearing, so the stress was totally unnecessary. However, with a grabby little baby like my sweet Isabelle, I think mama will be on the lookout for a cute tankini or one piece for this summer. I like making sure everything stays covered!
This is what happens when I don't have someone take a picture for me. To be honest, I was pretty impressed with how well I did with the self-timer. I love breezy white skirts for summertime!
Kaylee and I wore our matching race shirts for the Mother's Day 5k which was a lot of fun. This was an awesome race shirt too – a performance tee, as opposed to a plain tshirt!
This is how I usually dress, besides when I'm getting all dressed up for the sake of my blog. Tshirt and jeans – shorts, in this case. Comfy casual at its best.
Lets link up with Jennifer at
Peas and Crayons
!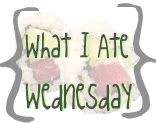 As for what I'm eating, it's all thanks to this baby.
Yes, my very own VITA-MIX.
It arrived on my doorstep a few weeks ago, and I've been blending up all kinds of smoothies. I love it!
I make my fruit smoothies with yogurt, milk, and lots of fruit. Anything goes! I love to throw in strawberries, blackberries, peaches, bananas, mangoes, and pineapple. So delicious!
It comes with a recipe book, and will do a lot more than smoothies, but for now that's all I've tried.
We've just been too busy for me to get in much more quality time in with my new favorite appliance. My hubby is anxiously awaiting some Vita-mix broccoli cheddar soup.
And lastly, linking up with
This kind of love
.
I'm loving...
that summer is here! Dude, it was still getting down in the 30s just within the last week or two, and yesterday it was 102 here. Our weather is wild!
I'm loving...
my gorgeous necklace from
Not Just Any Old Day
! Don't forget you
can get an exclusive discount when you use the link on my site!
I'm loving...
the most delicious corn I've ever eaten! I'll share a recipe with you soon!
I'm loving...
that in less than a month, I'll be in Florida with my sweet girls. Sunshine state, here I come!
I'm loving...
that my big girl rides in the shopping cart now, instead of the infant carrier car seat!
I'm loving...
that she also transitioned to her "high chair" instead of just the bumbo!
I'm loving...
that my brother is in town and will be over for dinner tonight!
He's a rockstar!
For real!
Check out
www.abandonkansaslovesyou.com/
:)
(I really need to write a post about them!)
What's your go-to daily outfit?