Do y'all know about box tops?
Box tops are on many of the foods and products you already buy - and when donated to your school, can raise money for education.
I remember collecting and turning in box tops years and years ago when I was a student, and for the last four years, we've been collecting and turning them in for Kaylee. Every little bit helps, and Kaylee's education is of the utmost importance to me!
Betty Crocker sent me a wonderful Box Tops For Education prize pack. My prize pack contained one box of regular brownie mix, cupcake iclips, a cupcake bag, cupcake notepads, Box Tops for Education pencils, and a neoprene lunch sack.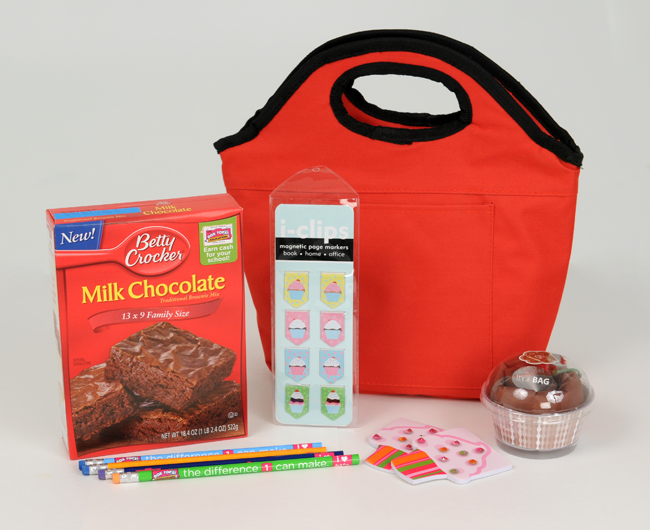 It goes without saying that the brownies will be delicious, the lunch sack will be perfect for everyday use, and the iclips will be the cutest little paper clips you've ever used.
Now, you can find Box Tops for Education on all Betty Crocker baking mixes, including new Fun da-middles™, individual cupcakes with a fun, creamy center.
This back-to-school season, look for double Box Tops on specially marked packages of Betty Crocker baking mixes.
You can visit the Betty Crocker website to get great baking tips, recipe ideas, and information on other yummy products. You can also learn more about the Box Tops for Education® program and how you can help your own local school by visiting the Box Tops website.
It's your lucky day! One reader of loving the little things will win the same prize pack I did!
To enter this giveaway, simply leave a comment on this blog post
, telling me what your favorite subject was at school.
Giveaway closes Monday, October 31 at 9:00 am CST.
Winner will be selected via random.org, announced on the blog, and notified by email on Monday, October 31. Good luck!
"Disclosure: The Betty Crocker products, information, and giveaway have been provided by Betty Crocker through MyBlogSpark."